Elegant three-star Hotel in Florence
The three-star Hotel LA FORTEZZA in FLORENCE stands in a quiet residential area and it's EXTREMELY WELL CONNECTED both to the CENTRAL STATION and to the HISTORIC CENTER by the T1 Leonardo line of the new TRAM.
Located inside an evocative 19th Century building, Hotel La Fortezza blends the grace of the classical style with the essential practicality of a contemporary one.
With its recently renovated prestigious historic common areas and 38 welcoming rooms, Hotel La Fortezza is delighted to welcome you in a truly EXCELLENT POSITION for your holiday in FLORENCE.
You will love arriving from the CENTRAL STATION in less than 5 minutes by TRAM.
Moreover our PRIVATE PARKING, inside the hotel's grounds, is especially convenient when you travel by car.
If you are looking for cultural itineraries, from here you can easily reach the HOSTORIC CENTER of the most important Italian Renaissance art city both by the new TRAM line T1 and with a pleasant 15 minutes walk.
If you are travelling on business, you are VERY CLOSE to the important FORTEZZA DA BASSO Exhibition Centre and to the Florence CONFERENCE CENTRE.
By TRAM : less than 5 minutes from the STATION, only 30 minutes from the AIRPORT, just 2 stops from the HISTORIC CENTER.
Just outside Hotel La Fortezza, at 90 meters / 100 yards from the entrance, you'll find the "STROZZI / FALLACI" tram stop
In a heartbeat you'll be ready to explore the HISTORIC CENTRE of Florence and its centuries of art history!
Discover the new Tram of Florence and its great ADVANTAGES for YOUR HOLIDAY at La Fortezza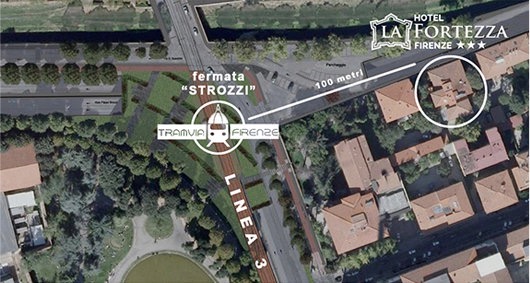 TripAdvisor
Exceptional service and wonderful location
Traveling solo, I felt secure in the hotel and the neighborhood. Although the hotel was away from the main tourist area, it was an easy walk to the heart of…
Affordable, comfortable, great location.
Highly recommend for singles, couples, and friends. Great location, walkable to the best sights of Florence and to the train station. Small but efficient rooms with comfortable beds. GREAT breakfast.…
Great hotel, Good value for money!
Lovely hotel, very clean, good breakfast and very friendly staff. Hotel is small but had everything we needed - we would defo stay here again. Good location, attractions easily accessed…
Fabulous
The hotel was super clean, walking distance to train /tram stop which connects to main train station. Staff were very helpful and excellent. Able to speak English well. Breakfast was…
This was my second stay at La Fortezza and I enjoyed it just as much this time as the first
I was very happy with the comfy bed and the facilities at the Hotel. I loved the breakfast and the fact that I had a court yard to sit in…
<
>
Listen to our guests' experience