Less than 5 minutes from the STATION, only 2 stops from the HISTORIC CENTRE
Opened in July 2018, the brand new TRAM is definitely the best and smartest way to get around in FLORENCE.
Hotel La Fortezza stands in a great location both to arrive without problems and to move comfortably in the city.
In fact it's the only hotel near the centre of Florence, with a TRAM STOP at just a 90 METRES / 100 YARDS distance !
These are the great ADVANTAGES for YOUR HOLIDAY
When you arrive by TRAIN in Florence
Leave the STATION and take the new Leonardo T1 TRAM at the "VALFONDA / STAZIONE" stop (track 2 / direction OSPEDALE CAREGGI).
Get off at the second stop, called "STROZZI / FALLACI".
In less than 5 MINUTES, you'll be in front of the entrance of Hotel La Fortezza.
You got it right: ONLY 2 STOPS without much effort to carry your bags !
When you go to Florence HISTORIC CENTRE
Just outside Hotel La Fortezza, at just 90 meters / 100 yards from the entrance, you'll find the "STROZZI / FALLACI" tram stop.
Take the TRAM (track 2 / direction "VILLA COSTANZA") and in JUST 2 STOPS you'll find yourself in front of Basilica of Santa Maria Novella.
In a heartbeat you'll be ready to explore the HISTORIC CENTRE of Florence and its centuries of art history !
---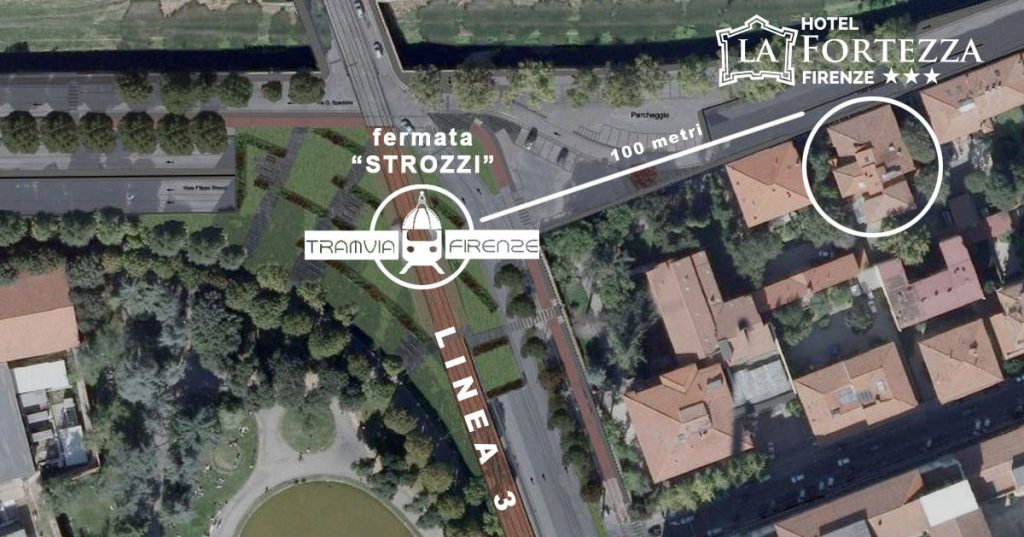 ---
Hotel La Fortezza is definetly the BEST CHOICE for your holiday in Florence because the TRAM is:

COMFORTABLE
When you arrive by train, you'll be able to carry even the heaviest pieces of LUGGAGE without effort, avoiding to drag them along the cobbled streets of the city.

FAST
Thanks to priority lanes as well as priority at traffic lights, the Tram can avoid the chaotic Florentine traffic, where normally buses and taxis get stuck into, and take you to the Hotel La Fortezza in a flash.
CHEAP
The ticket costs only € 1.50 – much cheaper than a taxi ride!

ECO-FRIENDLY
The tram runs on electricity and does not pollute the environment.
TripAdvisor
Exceptional service and wonderful location
Traveling solo, I felt secure in the hotel and the neighborhood. Although the hotel was away from the main tourist area, it was an easy walk to the heart of…
Guest
Best Breakfast in Firenze. Pretty room. Modern was room with linen towels! . Welcoming. Near transit. Easy to get to train station and all the sights. Would choose again if…
Affordable, comfortable, great location.
Highly recommend for singles, couples, and friends. Great location, walkable to the best sights of Florence and to the train station. Small but efficient rooms with comfortable beds. GREAT breakfast.…
Great hotel, Good value for money!
Lovely hotel, very clean, good breakfast and very friendly staff. Hotel is small but had everything we needed - we would defo stay here again. Good location, attractions easily accessed…
Fabulous
The hotel was super clean, walking distance to train /tram stop which connects to main train station. Staff were very helpful and excellent. Able to speak English well. Breakfast was…
<
>
Booking.com
Great location, lovely staff and good value for money
The choice at breakfast and staff in the dining room were excellent
Decent breakfast, great for budget travellers
The accommodation is approximately 15 minutes walk from Firenze S.M.N. Check in and check out was smooth, we found the staff friendly. The best feature we enjoyed was the buffet…
You have to stay here…beacuase of their breakfast!
We stayed at the hotel La Fortezza just one night, but we can recommend it as well! The room was clean, perfectly prepared. And what is the top? Their breakfast!!!…
<
>
Listen to our guests' experience