Unlike other hotels in Florence that use affiliated garages outside their facilities, at the Hotel La Fortezza you will find a private car park right inside the hotel.
Here you have your car always at hand and you can take it whenever you want without having to wait for someone to bring it back from an external garage maybe a few kilometers away.
In addition, Hotel La Fortezza is located immediately outside the ZTL (Limited Traffic Zone) and you can arrive by car right in front of the hotel entrance without any problem and without any request for permission.
For all bookings made directly on this site or by calling 055 46 39 101, the hotel parking is free for the whole of 2020 (subject to availability).
Alternatively, just 50 meters from the hotel you will also find 2 large public car parks with blue stripes.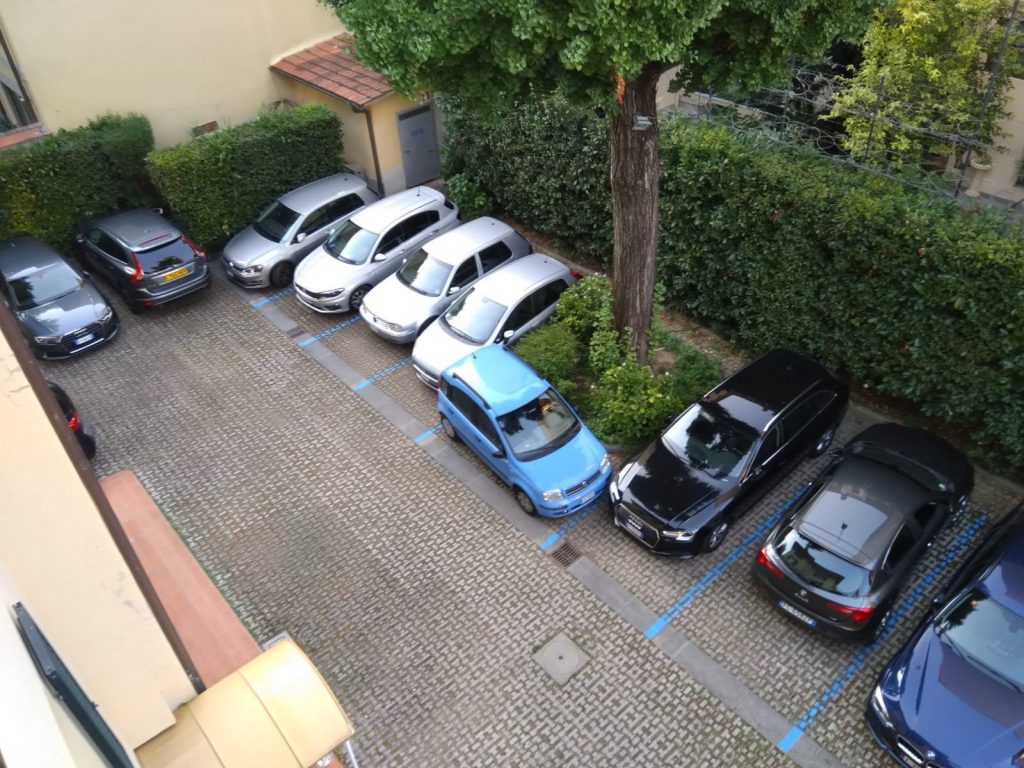 TripAdvisor
Exceptional service and wonderful location
Traveling solo, I felt secure in the hotel and the neighborhood. Although the hotel was away from the main tourist area, it was an easy walk to the heart of…
Guest
Best Breakfast in Firenze. Pretty room. Modern was room with linen towels! . Welcoming. Near transit. Easy to get to train station and all the sights. Would choose again if…
Affordable, comfortable, great location.
Highly recommend for singles, couples, and friends. Great location, walkable to the best sights of Florence and to the train station. Small but efficient rooms with comfortable beds. GREAT breakfast.…
Great hotel, Good value for money!
Lovely hotel, very clean, good breakfast and very friendly staff. Hotel is small but had everything we needed - we would defo stay here again. Good location, attractions easily accessed…
Fabulous
The hotel was super clean, walking distance to train /tram stop which connects to main train station. Staff were very helpful and excellent. Able to speak English well. Breakfast was…
<
>
Booking.com
Great location, lovely staff and good value for money
The choice at breakfast and staff in the dining room were excellent
Decent breakfast, great for budget travellers
The accommodation is approximately 15 minutes walk from Firenze S.M.N. Check in and check out was smooth, we found the staff friendly. The best feature we enjoyed was the buffet…
You have to stay here…beacuase of their breakfast!
We stayed at the hotel La Fortezza just one night, but we can recommend it as well! The room was clean, perfectly prepared. And what is the top? Their breakfast!!!…
<
>
Listen to our guests' experience